Economizers and Hail Guards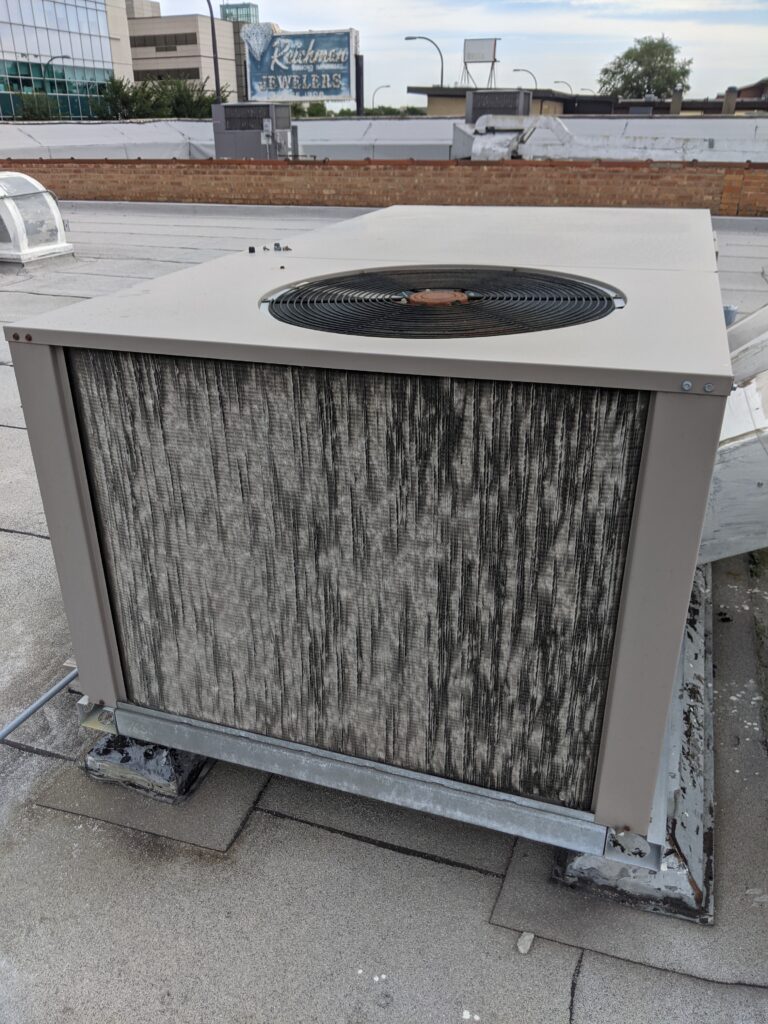 An aspect of being a successful Chicago business owner is continually looking for smart ways to implement cost savings. A couple worthwhile items to explore in heating, ventilation, and air conditioning (HVAC) are economizers and hail guards.
Installing both, or at least one, of these HVAC items can save you money in different ways. Call us at 1-800-592-6237 to discuss these with one of our knowledgeable experts and how we can help you save your company money.
What Is an Economizer?
Economizers operate much on the same principle as opening a window on a cool day. If it's warm inside your building, but it's cooler outside, opening a window will bring that cool air in and solve your heat issue.
In most cases, this is just not possible with an entire commercial or office building, so an HVAC economizer will produce the same result. It draws in outside air to cool the building when it's cool enough outside.
The economizer itself is either built in or retrofitted to a rooftop unit. Having an economizer eliminates the need, thereby the cost (hence its name), of mechanical cooling when the outside air is cool enough to use.
For a typical Illinois office building, the HVAC system recycles 85 percent of its air from the inside and mixes the needed remaining 15 percent of outside air with the indoor air. When able to use the outside air due to its lower temperatures–usually 69 degrees Fahrenheit and cooler–the economizer's dampers modulate to using up to 100 percent outside air for cooling.
This saves the HVAC compressors, though in some instances they may still run in a moderate capacity to maintain the indoor temperature. Electricity costs are lower since the compressor either isn't running or is running very minimally. It adds to the compressor's life longevity, also saving money on repairs and replacement.
There are different economizer models with different sensors and purposes, such as dry bulb, single enthalpy, differential enthalpy, and integrated differential enthalpy. One of our Amber Mechanical HVAC pros can assess which type would best suit your needs and discuss a plan with you at your convenience.
What Is a Hail Guard?
When thinking about protecting your Chicago HVAC system, hail storms most likely don't jump to the forefront of your mind. But hail storms do occur more frequently than you think, and HVAC systems are quite vulnerable to the damage hail can do.
During a storm, your system's outdoor or rooftop unit could experience severe damage from both the hail and any airborne debris. According to the National Weather Service (NWS), even though thunderstorms only last for 30 minutes on average, they can quickly become severe with winds no less than 58 mph and hail the size of an inch.
For optimal protection, consider installing hail guards. These durable guards are designed to help shield your condenser coil fins from hail and debris damage. Hail and/or debris can be severe enough to cause loss of heating and cooling, loss of the use of the entire facility, and/or water damage.
Something like hail damaging the fins on your coil assemblies results in diminished heat transfer so your system won't function properly. This consequence could be as major as compromising your Illinois workforce's ability to carry on, thereby shutting down your business until the fins are repaired or the equipment is replaced.
In the case of a minor repair, if this continues with each storm, the result would be cumulative damage and may end in needing to replace the entire unit.
We Are Your Economizer and Hail Guard Experts
When it's time to add an economizer or hail guards to your HVAC system in Chicago, IL, be sure to contact our Amber Mechanical experienced and trained team members at 1-800-592-6237 or request service online today. Bottom line: It's a smart business strategy to trust us.
Contact Amber Mechanical, Inc., for Commercial Service and Industrial Mechanical Contracting Needs