Amber Mechanical Contractors specializes in providing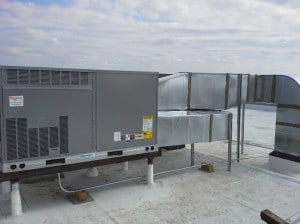 replacement and add-on heating, ventilation, and air conditioning (HVAC) systems. As a business owner or facility manager, you face enormous challenges as you struggle to balance the cost of energy with an increasing demand for heating and air conditioning resources.
You must be particularly cognizant of the important role the heating and cooling contractor plays in the design, installation, repair, and maintenance of complex commercial heating and cooling equipment.
Commercial HVAC Design
At Amber Mechanical, our project management team will be working one on one with you to customize a solution for your building needs by providing you with the latest technology and most energy-efficient options available.
Light commercial systems undergo enormous stress and wear because of near-continuous operation. Over time, efficiency and functionality are compromised, especially in settings where a precise temperature and humidity level must be maintained.
In contrast to residential HVAC service, commercial heating and air conditioning requirements are usually very demanding, and a commercial contractor must have the training, manpower, and tools required to meet rigid schedules and unexpected change orders. Aligned with the top manufacturers in the industry, Amber Mechanical is equipped and ready to replace or add HVAC equipment for your facility.
Since the ductwork plays such an important role in providing proper capacity, all air distribution networks should be designed according to Sheet Metal and Air Conditioning Contractors' National Association (SMACNA) guidelines. Additionally, a commercial contractor needs to have sufficient knowledge and experience in the deployment of make-up air units (MAUs), commercial controls, and economizers.